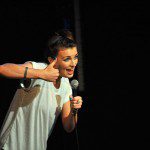 The winner of this year's competition is the wonderful Irish rose Aisling Bea. With hilarious hip-hop moves, and wonderfully silly stories – she's the second powerhouse female winner in the whole 25 years of the competition!

In second place came Jonathon Pelham. His material was very personal and self deprecating, and he had the audience on his side right from the beginning!

Joint third place are Wayne Mazadza and Murdo Haggs. Wayne is a Zimbabwean based out of Edinburgh and Murdo was the only Scottish lad in the finals this year,
Congratulations to the winners and the finalists- it was truly an excellent show!